The 2021 Porsche Taycan
Available Now at Paul Miller Porsche

Feel The Electric Power You Crave In A New 2021 Porsche Taycan
After being released last year, the Porsche Taycan has made waves in both the sportscar and the electric car worlds. With an unprecedented amount of power, an all-electric powertrain, and the sleek stylings of a sports car, the new Porsche Taycan is sure to make any drive throughout Parsippany, Millburn, or beyond one worth remembering.
Designed To Make You Stand Out
The new Porsche Taycan is designed with excellence and sophistication, yet it somehow manages to make your heart race as soon as it comes into view. From the flat flyline silhouette and four-point LED headlights with Matrix Design to the seamless rear light strip and fixed panoramic glass roof, there's no denying that the Porsche Taycan will take your breath away.

Trim Levels Of The New Porsche Taycan
T
he 2021 Porsche Taycan can be found in three outstanding trim levels. Each of these come with different design qualities, high-performance features, and price tag. Morristown area drivers can choose from:
Porsche Taycan 4S
Porsche Taycan Turbo
Porsche Taycan Turbo S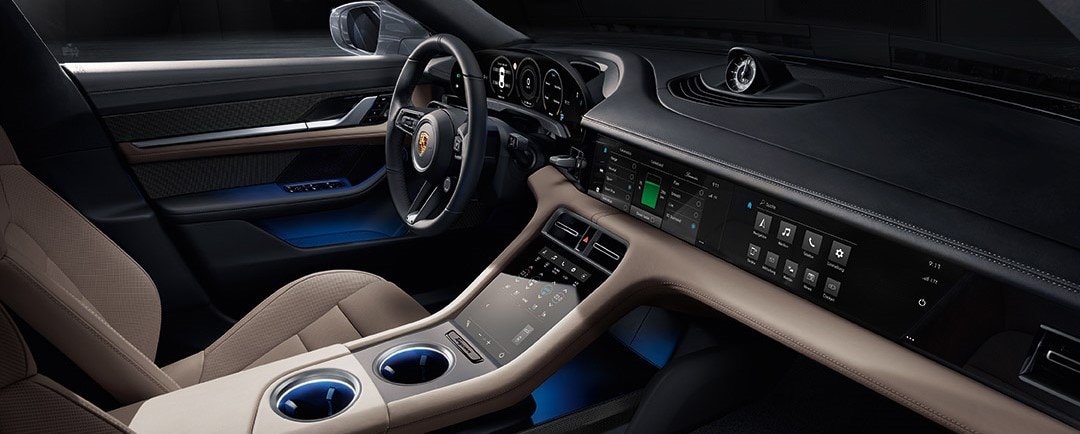 What's New In The 2021 Porsche Taycan?
Even though the Porsche Taycan was brand-new last year, it has seen some upgrades for the 2021 model year. These changes include some new features, updated technology, and added color options. Drivers can now find an optional head-up display, InnoDrive adaptive cruise control, and many other safety and infotainment upgrades. They can also match their new Porsche Taycan to their personality with seven new color options: Frozenberry Metallic, Mahogany Metallic, Chalk, and more.
Frequently Asked Questions About The Porsche Taycan
If you're considering the Porsche Taycan as your next vehicle, you may have some questions that you'd like answered. The Porsche Taycan would make a great coupe for any Newark NJ area driver, but it is worth asking the questions you need to discuss. Here are a few of the answers to some of the most frequently asked questions we receive about the Porsche Taycan.
Is the Porsche Taycan fully electric?
Yes! The Porsche Taycan is completely electric! From the electric all-wheel drive system to the two electric motors, this beast is ready to prove that electric doesn't mean wimpy. We also have the exciting
Porsche Taycan Cross Turismo
coming soon, so be sure to check that out for some impressive, all-electric power.
What is the range of the Porsche Taycan?
The estimated EPA range for the Porsche Taycan 4S is 203-miles, for the Porsche Taycan Turbo is 201-miles, and for the Porsche Taycan Turbo S is 192-miles.
What does Taycan mean?
The word Taycan comes from two Turkic terms. It can roughly be translated as the "soul of a spirited young horse," which is perfect for this speedy, modern, and free-spirited electric vehicle.
How fast is the Porsche Taycan?
The Porsche Taycan is fast in every way. It can go from zero to 60 miles-per-hour in just 2.4-seconds, comes with a top speed of up to 162 miles-per-hour, and can produce up to 750-horsepower with the boost the Turbo and Turbo S trims can utilize.
Visit Paul Miller Porsche To Learn More About The New 2021 Porsche Taycan
If you're interested in seeing the latest Porsche Taycan up close, we recommend contacting our Paul Miller Porsche dealership. We strive to have the newest Porsche vehicles available for our Wayne NJ, Short Hills NJ, and beyond drivers and would love to discuss any of your Porsche Taycan questions.